Inshopping
Regular price
€29,90
Sale price
€29,90
Unit price
per
Sale
Sold out
Il nostro misuratore di pressione digitale da polso è la soluzione perfetta per tenere sotto controllo la tua pressione arteriosa in modo semplice e preciso. Con una capacità di memoria di 180 letture, puoi monitorare la tua pressione e quella di un'altra persona, fino a un massimo di 90 letture per utente.
Il nostro dispositivo presenta un indicatore di classificazione dei valori per aiutarti a interpretare i risultati delle tue misurazioni. Inoltre, la misurazione avviene durante il gonfiaggio del bracciale, offrendo una lettura ancora più accurata.
Gli allarmi per il battito irregolare ti avvisano immediatamente se viene rilevata un'irregolarità del battito cardiaco, in modo che tu possa prendere le necessarie precauzioni. Il display LCD ampio e di facile lettura mostra i valori di pressione arteriosa e pulsazioni nell'intervallo di 0mmHg~299mmHg, pulsazioni 40~180 battiti/min.
Il misuratore di pressione da polso calcola anche il valore medio delle ultime 3 misurazioni per offrirti una visione più accurata della tua pressione arteriosa nel tempo. Inoltre, con la funzione di autospegnimento, non dovrai mai preoccuparti di lasciare il dispositivo acceso accidentalmente, risparmiando batteria e prolungando la vita del prodotto.
Il nostro misuratore di pressione da polso è alimentato da 2 batterie alcaline AAA incluse nella confezione, offrendoti un'esperienza di utilizzo pronta all'uso fin dal primo utilizzo. Acquista oggi il nostro misuratore di pressione digitale da polso per mantenere la tua salute sotto controllo in modo facile e conveniente.
Condividi
View full details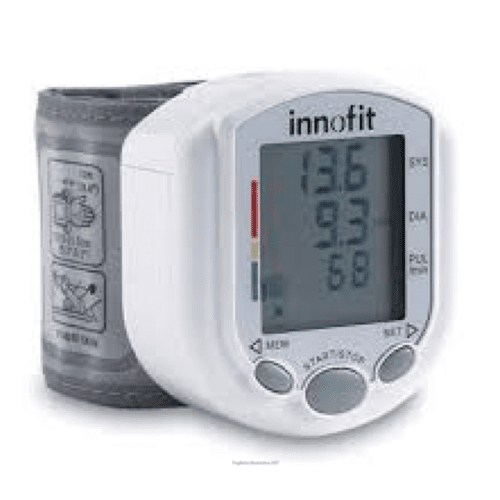 Caratteristiche del nostro servizio:
Incredible Prices

With us you will find the products you want at the best prices.
Spedizione Veloce

Spedizione gratuita con una spesa superiore ai 49€.
Consegna in 48 ore.
Customer care

We offer you a smooth and pleasant shopping experience.

We also strive every day to improve and simplify every aspect of orders.
Customer service

Servizio Clienti sempre a disposizione tramite numero dedicato, per qualsiasi dubbio sarà a tua disposizione chiamando il 0712133550.